Board Vice President
Trustee Area 5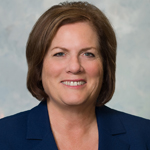 Email: Paula.Hall@sweetwaterschools.org
Paula Hall is a resident of Imperial Beach, wife and mother of three children and an education budget analyst. She was born at Balboa Hospital and is the youngest of five children. When Paula was seven, her father, a Drill Instructor for the United States Marine Corp., succumbed to injuries he sustained during war time service. It is from him and from the women in her life, her mother and grandmother, that she draws inspiration, not only because of their work ethic, but their courage, strength and perseverance during life's most challenging times.
Paula attended public schools in San Diego and Santa Clara Counties. Using her father's G.I. benefits, Ms. Hall was able to enter California State University, Sacramento where she earned a Bachelor of Arts Degree majoring in Humanities. A Dean's Honor Student, she was accepted in the California State Universities International Program and spent a year studying in Italy. Paula completed the University of San Diego's Paralegal program after graduation. She has continued to enhance her education by utilizing opportunities offered through her employer and at local community colleges.
Ms. Hall values community and for over twenty years volunteered in her local schools. That service included more than seven years on school site councils as well as the District Advisory Council. In addition, Paula Hall served three terms as secretary of the DAC and one term as president. For many years she was a part of a volunteer team for the U.S. Open Sandcastles, served two years as treasurer of the Imperial Beach Swim Team and served one year as Vice President of the South Bay Music Foundation. She actively volunteers and raises funds each year to support local suicide prevention programs (Save a Life Walk (SASL), American Foundation for Suicide Prevention (AFSP) Out of Darkness Walk, and the Yellow Ribbon Program).
Over her career Paula Hall has served alongside district board members, superintendents, administrators, teachers and staff in planning key programs and optimizing resources. This experience is invaluable to ensure Sweetwater Union High School District has leadership that is ethical and inclusive, decision-making is transparent, resources are allocated equitably and all our schools are focused on excellence in the classroom.