Board Member
Trustee Area 1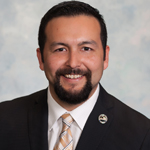 Email: Arturo.Solis@sweetwaterschools.org
Mr. Arturo Solis was elected to the Sweetwater Union High School District (SUHSD) in November 2014. His district encompasses the City of National City and western Chula Vista.
Mr. Solis grew up in a working class family in the Los Angeles area, where his parents always stressed that education was the key to a better future. Through his hard work and constant support of his parents, he graduated Salutatorian from high school and attended the University of California, San Diego, where he met his wife Alejandra. Mr. Solis graduated with a Bachelor's of Science in Psychology and was published in Behavioral Brain Research for a schizophrenia study he led his senior year. Like many of the students of SUHSD, he was the first in his family to graduate from a University.
Having many strong teacher role models growing up, he made the decision to become a teacher. At Nativity Prep Academy, he is in the classroom everyday encouraging students to achieve their goals. Mr. Solis lives in National City where he is working to help create a stronger school district for his children.